Home > Exhibitions > Copper Engravings by Georges Rouault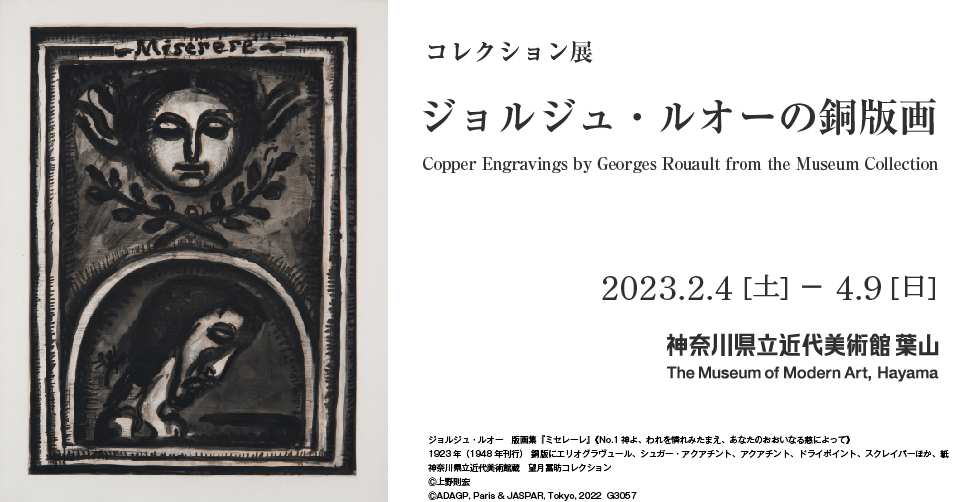 Also on View

Yokoo Tatsuhiko Beyond the Realm of Meditation

More Info
Copper Engravings by Georges Rouault from the Museum Collection
About the Exhibition
In conjunction with the retrospective of works by YOKOO Tatsuhiko, introduced here are copper engravings by Georges Rouault (1871–1958), by whom Yokoo was influenced. The profound works produced by repeatedly incising and hatching a copperplate, onto which the image has been photoengraved, are brimming with the deep spirituality with which Rouault pursued depths of the human mind. Shown here are Miserere (1922-27, published in 1948), a series of master monochrome copper engravings inspired by the death of Rouault's father and World War I, and Passion (1936), which depicts the sufferings of Christ.
Information
Venue

HAYAMA, Gallery 3b
Period

February 4 – April 9, 2023
Closed

Mondays
Opening hours

9:30 – 17:00 (Last admission at 16:30)

Admissions

Adults: 250 yen
Under 20 or College Students: 150 yen
65 and over: 100 yen
High School Students: 100 yen
Junior High School Students and under 16: Free


* Tickets of the exhibition "Yokoo Tatsuhiko" also entitle to enter the exhibition "Copper Engravings by Georges Rouault from the Museum Collection" on the day of purchase.

* A person with disabilities and one accompanying caretaker are admitted free of charge upon presenting Disabled Person's Handbook or an equivalent government-issued identification.

* "Family Communication Day" offers a discount for all group (except those 65 or over) accompanying children under 18 on the first Sunday of every month.

* For more infomation, see Concessions & Free Admission.
Organized by

The Museum of Modern Art, Kamakura & Hayama
Works
Georges Rouault, Portfolio "Miserere", No.1, Miserere mei, Deus, secundum magnam misericordiam tuam.
1923, Museum collection (Mochizuki Tomiaki Collection)
©Norihiro Ueno
©ADAGP, Paris & JASPAR, Tokyo, 2022 G3057

If you want to open and view PDF file, you must have
Adobe Acrobat Reader
installed.