Home > Exhibitions > [Reopen on June 9] Museum Collection: Giving Forms to Daily Life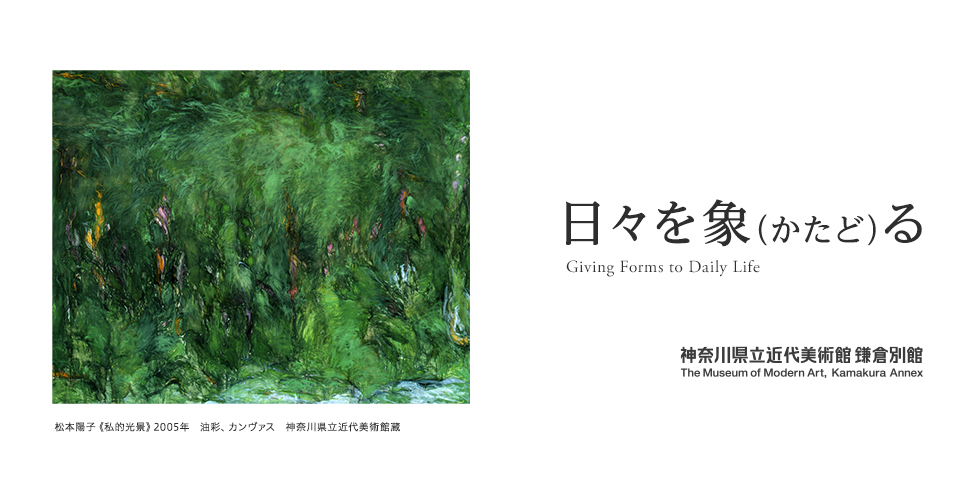 Giving Forms to Daily Life
This exhibition, which was announced cancellation to prevent the further spread of COVID-19, will reopen on June 9. Please check our Health and Safety Measures before your visiting.
About the Exhibition
What do the nonchalant expressions of works depicting casual scenes in daily life signify? What effect do the artists, who spend day after day painting and creating, and the works they have accumulated have? Mainly paintings, drawings, and three-dimensional works from our collection have been chosen from several viewpoints regarding production and (non-) routine. Experience encounters with images extracted from a world you are already familiar with and which appeal to your senses.
Infomation
Place

Gallery, Kamakura Annex
Period

April 11 - July 5, 2020
June 9 - July 5, 2020
Closed

Mondays
Opening hours

9:30–17:00 (Last admission at 16:30)
Admissions

Adults: 250 yen
Under 20 and Students: 150 yen
65 and over: 100 yen
High school students: 100 yen
Junior high school students and under 16: Free

* A person with disabilities and one accompanying caretaker are admitted free of charge upon presenting Disabled Person's Handbook or an equivalent government-issued identification.
* "Family Communication Day" offers a discount for all family members (except under 65 and over) accompanying children under 18 on the first Sunday of every month.
Greeting [as of April 2020]
Welcome to this exhibition entitled Giving Forms to Daily Life.
The Japanese title of this exhibition includes the word "katadoru," which is a verb meaning "to model something on… (give form to)," and employs the Chinese character "象," which is a hieroglyph of an elephant. Its prototype can be identified in the inscriptions made on bones and tortoise carapaces in ancient China during the Yin dynasty. It was modeled on the appearance of a walking elephant seen from the side and rotated through 90 degrees. In recent years, thanks to the progress in research, a group of images depicting "elephants" have been found on wall paintings in caves presumed to date back to forty thousand or more years ago.
"Modeling something on (giving form to)" an "elephant"—both the verb "model" and the noun "elephant" are represented by the same Chinese character "象." That was the starting point of mankind's act of expression. But why did the letter signifying an elephant assume the meaning of the verb "to model (give form to)?" As a big and powerful existence, elephants have overwhelmed human beings and been a subject of awe and respect from the far-off past. Consequently, this animal may have come to signify "appearance" of its own accord. The facts that elephants are popular among children's pictures of the zoo and that they are also depicted in cave paintings suggest that the two are not unrelated. Artists are metaphorically in search of "elephants" every day. That is indeed the "elephant" as an image, too. Art is no other than to "model (give form to)" the world.
In this exhibition, we have chosen works from our collection to introduce the creative activities of artists who have been "giving form to images" on a daily basis. At a time when we are confronting challenges to our daily life, such works should encourage and cheer us up. Last but not least, we would like to thank all those that have donated or deposited precious works with us and to all others concerned for their cooperation in organizing this exhibition.


MIZUSAWA Tsutomu
Director of The Museum of Modern Art, Kamakura & Hayama
Exhibition Views (Click on the thumbnail to enlarge)

If you want to open and view PDF file, you must have
Adobe Acrobat Reader
installed.