Home > Exhibitions > "Landscapes of Memory" from Museum Collection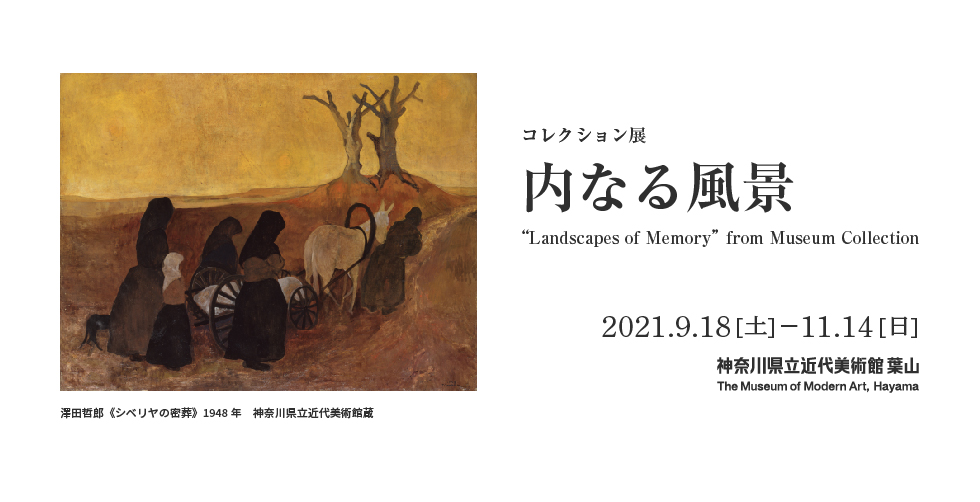 Also on View

KAZUKI Yasuo: A Retrospective

More Info
"Landscapes of Memory" from Museum Collection
About the Exhibition
In tandem with the KAZUKI Yasuo retrospective showing simultaneously, we introduce related works from the museum collection, starting with those by FUJISHIMA Takeji who Kazuki tutored, and NOMIYAMA Gyoji and TAKAYAMA Tatsuo with whom he was friendly. Then there is SAWADA Tetsuro and MIYAZAKI Shin, also interred in Siberian POW camps like Kazuki, who left behind poignant works drawing on their memories. Considering also the works of artists such as MATSUMOTO Shunsuke and Aimitsu, whose works confront the issue of war with powerful intensity, and those like HAMADA Chimei who pioneered complex modes of expression that transcended their own painful experiences of military service, the exhibition ties together the unforgettable memories of many artists.
Information
Venue

HAYAMA, Gallery 4
Period

September 18 – November 14, 2021
Closed

Mondays (except for September 20)
Opening hours

9:30 – 17:00 (Last admission at 16:30)
Admissions

Adults: 250 yen
Under 20 or College Students: 150 yen
65 and over: 100 yen
High School Students: 100 yen
Junior High School Students and under 16: Free


* Tickets of the exhibition "KAZUKI Yasuo: A Retrospective" also entitle to entry "Landscapes of Memory" on the day of purchase.

* A person with disabilities and one accompanying caretaker are admitted free of charge upon presenting Disabled Person's Handbook or an equivalent government-issued identification.

* "Family Communication Day" offers a discount for all group (except those 65 or over) accompanying children under 18 on the first Sunday of every month.

* For more infomation, see Concessions & Free Admission.
Organized by

The Museum of Modern Art, Kamakura & Hayama