Home > Exhibitions > Man Ray and the Women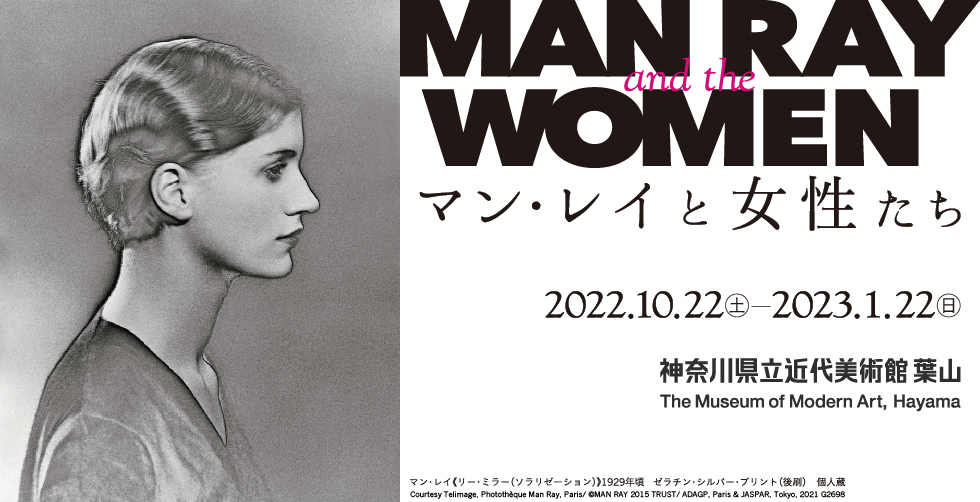 Also on View

NAITO Rei, Tout animal est dans le monde comme de l'eau à l'intérieur de l'eau, 2022
from museum collectionMore Info

About the Exhinbition
Man Ray (1890–1976) was a leading artist of the twentieth century. Transcending genres such as paintings, objects, and films, he was particularly in pursuit of the potentials of photography as a new medium. While producing experimental expressions by means of rayograph and solarization, he recorded the Dada and Surrealist movements he took part in and undertook portraits and fashion photography, too. Shedding light on the "women" captured by Man Ray's camera, through approximately 240 works, the trajectory of his photographic works and how Man Ray was received in Japan are examined.
Information
Venue

HAYAMA, Galleries 1, 2, and 3a
Period

October 22, 2022–January 22, 2023
Closes

Mondays(Without January 9, 2023)、December 29, 2022–January 3, 2023
Opening hours

9:30-17:00(Last admission at 16:30)
Admissions

Adult:1,200 yen
Under 20 or Students: 1,050 yen
65 and over: 600 yen
High School students: 100 yen
Junior High School students and under 16: Free
*Tickets of the exhibition "Man Ray and the Women" also entitle to entry NAITO Rei, Tout animal est dans le monde comme de l'eau à l'intérieur de l'eau, 2022 on the day of purchase.

* A person with disabilities and one accompanying caretaker are admitted free of charge upon presenting Disabled Person's Handbook or an equivalent government-issued identification.

* "Family Communication Day" offers a discount for all group (except those 65 or over) accompanying children under 18 on the first Sunday of every month.

* For more infomation, see Concessions & Free Admission.
Organized by

The Museum of Modern Art, Kamakura & Hayama

Supervised by

Kunio Iwaya(Scholar of Surrealism and French literature, Art critic, Emeritus professor of Meiji Gakuin university)
Marion Meyer(Scholar of 20th century's Art, President of the Association Internationale Man Ray, Paris)

Planning Cooperation

Art Planning Rey Inc.

Special Cooperation

Association Internationale Man Ray, Paris


Cooperation

Ambassade de France/ Institut français du Japon 


Supported by

Japan Airlines
Composition of the Exhibition
Chapter I New York 1890ー1921
  I-1 Self-Portraits
  I-2 Works from the Dada Period
Chapter II Paris 1921ー1940
  II-3 Dada and Surrealism
  II-4 Portraits of the Surrealists
  II-5 Kiki de Montparnasse
  II-6 Lee Miller
  II-7 Parisien Society and the Artistic Circles of Montparnasse
  II-8 Fashion and Photography
  II-9 From Nudes to Mannequins
  II-10 Women and Surrealism
  II-11 Man Ray's "Free Hands"
  II-12 Ady Fidelin
Chapter III Hollywood 1940ー1951
  III-13 Juliet Browner
  III-14 A New World for Man Ray's Art
Chapter IV Returning to Paris 1951ー1976
  IV-15 The Female Figures in His Artwork
  IV-16 Novel Jewelry and Fashion Design
  IV-17 A Look Back : Who Was Man Ray?

Man Ray and Japan
Cooperated by Keio University, Hiyoshi Media Center
About the special section
On the occasion of the exhibition "Man Ray and the Women," the museum will feature "Man Ray and Japan" as its special section. Man Ray also worked with Dada and Surrealist poets on books of poetry and art, in addition to photography, objet d'art, film, and painting. His wide-ranging activities were introduced to Japan in the late 1920s, when he moved from New York to Paris, and influenced prewar avant-garde artists. This section features letters, photographs, books, and other materials exchanged by Shuzo Takiguchi (1903-1979) and Chiruu Yamanaka (1905-1977), both Surrealist poets, critics, and translators who led the Surrealism in Japan, with Surrealists overseas. This exhibition attempts to trace Man Ray's reception in Japan.
The section is includes a collection of poems and drawings that Man Ray collaborated with the poet Paul Éluard and The Distance of the Fairy (1937), a collection of poems and drawings that Takiguchi edited with Yoshifumi[Nobuya] Abe (1913-1971).
After the war, Aiko Miyawaki (1929-2014), a sculptor who came to Europe under the urging of Abe and Takiguchi, had a relationship with Man Ray from 1962 to his last years, and she was also a model for him. The section presents those letters and objects that show their interactions, as well as looks back at Miyawaki's creative transformation from the two-dimensional to the three-dimensional in the late 1960s.

If you want to open and view PDF file, you must have
Adobe Acrobat Reader
installed.