Home > Learning > Education Support
For Teachers and Educators
School Visits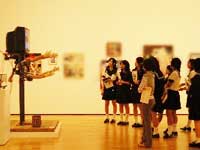 Teachers and educators who are accompanying school students visiting the museum as educational program are exempt from admission fee. Applications must be received 7 days before the visit.
It would be appreciated if those visiting the museum as a school visit would advise us beforehand, even if your group consists of less than 20 people, need no guidance or exemption of admission fee. Please print out the form and send it by fax to: 046-875-2968 (HAYAMA) / 0467-23-2464 (KAMAKURA ANNEX).
Those visiting Hayama by a coach (with capacity of over 11 people) need to apply 7 days before their visit. Please contact the museum on 046-875-2800.
Educational Support
We can offer educational support for visits by providing learning materials, in-school lectures, short guidance, and special workshops. Please contact the museum when planning your school visit. (HAYAMA: tel. 046-875-2800 / KAMAKURA ANNEX: tel. 0467-22-5000)
Work Experience

We accept a small number of junior high and high school students for work experience each year (posts are not advertised). We also give lessons in local primary, junior high and special education schools. For more information, please call us on 046-875-2800.
Teacher Viewing Sessions

Teachers are indispensable in enabling children to enjoy art museums and appreciate art. For that reason, we hold Teacher Viewing Sessions for each special exhibition, so that teachers have the opportunity to appreciate the exhibitions first. Participation is free, but advance booking is required.
For: those teaching at primary, junior high, high, or special education schools, social education facilities (kominkan etc.), those belonging to a board of education, or those belonging to any organization providing educational support education and actively engaged with educational activities
For Students
Internship

We offer an internship program for graduate students. In general, an application form (in Japanese) will be uploaded to our website and should be submitted in the Spring.
Training practice

We offer training practice for 4th year university students wish to obtain a license of museum curator. An application form will be upload to our website around April – May.
For All
MULPA (Museum UnLearning Program for All )
The Museum UnLearning Program for All, abbreviated to MULPA, is an art project set up in 2016 at the initiation of Kanagawa International Foundation to undo perceived ideas and promote new forms of learning about art, bringing together curators and directors of the four art museums in Kanagawa along with members of the planning committee of various organizations.By facilitating collaboration between regional art museums and art festivals and art universities in order to develop programs promoting inclusive education, MULPA aims to enable access to art museums for everyone living in the area, including people from overseas and those with disabilities.
If you want to open and view the PDF file, you must have Adobe Acrobat Reader installed.